Posted by Buckleguy on 08 05 15
What is PVD?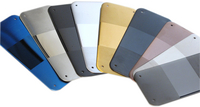 PVD = Physical Vapor Deposition

PVD is a process carried out in high vacuum at temperatures between 150 and 500 °C.

PVD is applied similar to electroplating where an electrical current is passed through the piece that is being plated. The pieces are sealed in an airtight chamber where a vacuum is created. In this vacuum negative voltage attracts the positive ions and inert gas that is introduced, which creates the environment necessary for the deposition process to occur.

The coating compounds are in the form of metal vapor and are made up of various elements such as borides, silicides, carbides, and nitrides. Different compositions of the elements will determine the type of color finish that is applied to the piece. This vapor adheres to the negatively charged pieces to form a thin, highly durable coating. In order to form a uniform coating thickness, the pieces in the chamber are rotated at a steady speed about many axes.
With PVD coating you get a highly durable, long lasting, scratch resistant piece. PVD is more expensive than traditional plating methods due to the more laborious and expensive plating processes. Many high value items such as golf clubs and watch hardware are plated in PVD.
At Buckleguy, we primarily plate with PVD on solid brass and stainless steel hardware. The most common PVD colors are black and gold, however with PVD we can also achieve blues, reds, and other interesting colors.
For any questions, and if you are interested in plating other hardware in PVD please email or call.