When it comes to leather, quality is the differentiator. Here at Buckleguy, a commitment to quality materials is one of our values. In order to help our customers understand what they're getting when they buy a leather product, we're diving into the three main grades of leather. Read on for a primer on genuine leather, top grain leather, and full grain leather.
Genuine Leather
Genuine leather is the real leather, but it's actually not as high in quality as the name might lead you to believe. In fact, when it comes to real leather, genuine leather offers the lowest quality you can get. That's because genuine leather—sometimes referred to as bonded leather—is made out of bits and pieces of leftover leather scraps. While genuine leather doesn't typically hold up well over time, it is very affordable. You could very well own a cheap belt or bag, for example, made with genuine leather.
Top Grain Leather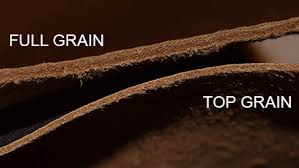 A step up from genuine leather and you've got top grain leather. When you hear top grain leather you might think top quality or top shelf, but the name actually refers to the top layer of the leather, which is what's altered in this type of leather. The surface is of top grain leather is finished, often to hide flaws and imperfections, making the leather thinner and somewhat less durable than it would be otherwise.
Full Grain Leather
Last but by no means least, we have full grain leather. This is the best quality leather you can get. With full grain leather, the original grain has not been changed or altered in any way, leaving the natural texture of the hide's surface untouched. This high-quality product yields durability and beauty not achieved in products made of lower grade leathers. An investment in a piece made with full-grain leather is one you can count on for years to come.
Now that you're an expert, you might have questions about the types of leather used in the products we offer. We're always here to help. Reach out online or by phone and we'll be happy to talk shop with you!