Posted by Hugh Harriss on 07 09 13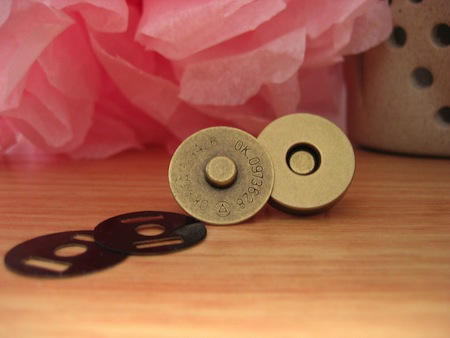 Magnetic snaps are often used on handbags and purses that act as closures and locks and add security and style. At our Buckleguy.com store we provide both Nickel Plated, Gold Plated, Antique Brass Plated, and Hidden magnetic snaps in 4 sizes and strength levels. All magnetic snaps come with the following: (1) female side, (1) male side, and (2) washers for the backs of the snaps.
Step – 1
Find the area on your purse that you would like to
install the purse snaps
and cut two slits in the leather or fabric. I suggest using a fabric marker so that you can accurately cut the slits and then erase the markings.
Step – 2
Take either the male or female end of the magnetic snap and slide it into the two slits. Please note that the prongs should be hanging on the inside or interior side of your bag.
Step – 3
If you wish, add a small piece of stabilizer such as batting or a small piece of interfacing or plastic canvas. If you are going to use plastic canvas, push the canvas against the prongs through the holes of the canvas. Otherwise, make two slits in the stabilizer and then push the prongs through. The use of the stabilizer is to provide increased stability to the snap.
Step – 4
Next, add the washers and slide the prongs through the holes of the washer and press outward and down to secure it in place. Depending on your preference, you can also press the prongs inward. Follow these steps in order to add the opposite end of the magnetic snap to the purse, making sure that you have lined the two up correctly!