If you're thinking about stitching your leather project by hand, saddle stitching is the way to go. This go-to stitch is one you're going to want to add to your skillset. Keep reading to learn how you can execute a saddle stitch with ease.
Why Choose a Saddle Stitch?
First of all, why is this stitch so popular among leather-crafters? Contrary to what you might think, hand-sewn leather is actually much more durable than machine-sewn leather. Another plus? If the thread ever breaks within the stitch, the stitch will prevail, making your piece better quality and longer-lasting. And who doesn't love that?
What Do I Need to Get Started?
Saddle stitching isn't overly complicated. Once you get the hang of it, you'll probably find it quite simple! To start stitching you'll need two sturdy needles that'll hold up stitching leather; waxed thread; a grover, awl, or punch to create holes before you stitch; and a stitching pony, which isn't required, but will make this stitch that much easier to complete. Oh, and you'll need two strong hands and some initial patience as you get acclimated to this task.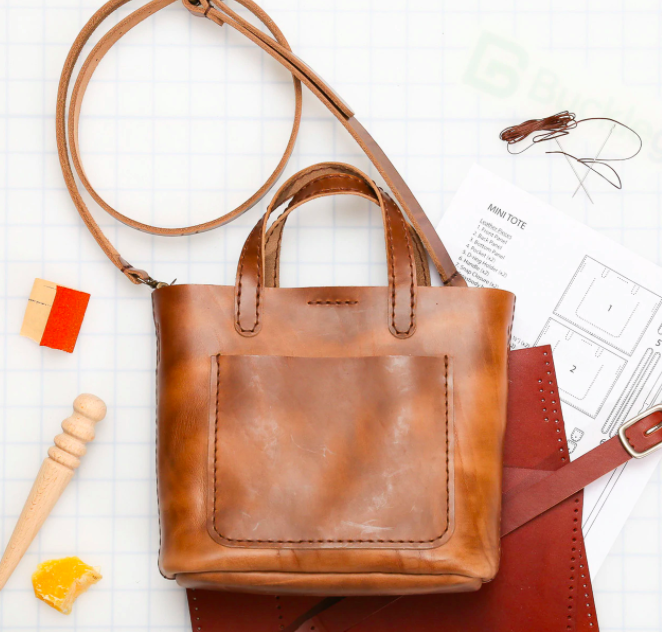 Let' Stitch!
Now you're ready to get stitching. You'll need to see the stitch in action before you can really do it for yourself, so check out one of these visual tutorials that we recommend. Gold Bark Leather offers a comprehensive look at how to perform the stitch, getting down to every little detail, including how to thread and tie up your needle. Instructables Craft also has a nice walkthrough, complete with photos of each and every step. With the help of one of these visual breakdowns, you should be stitching in with confidence and ease in no time.
Got the itch to stitch, but don't know where to start? Here at Buckleguy, we meet all your leather needs. If you're new to stitching, why not start with one of our awesome kits? Each comes complete with all the basic supplies you'll need and easy-to-follow instructions.